About Us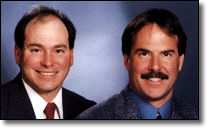 Garrhs Heating & Air Conditioning is a family owned business with roots in Southwest Colorado dating back 60 years.
We take pride in our reputation for high quality work and honest, fair business practices.
Travis & Mark Oliger, Owners
At Garrhs we are committed to:
• A tradition of excellence
• Continuous training
• Building customer relationships
• Dependable friendly service
• Professional skilled employees
• Regional leaders in the industry
It is our goal to provide the best quality and performance from our staff as well as our equipment and supplies, to ensure complete customer satisfaction unequaled by anyone else.